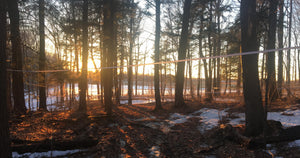 Simple and Affordable
Sugarbush Monitoring
SapSpy
Simply place the SapSpy Sensor Hub in your sugar bush, turn it on, login to the web app and always know the status of your sugarbush.
Key Features:
The Sap Spy - Sensor Hub
At Sap Spy, it all starts with the Sensor Hub, an all-in-one device that monitors the most critical needs of a sugarbush. The sensor hub takes readings of vacuum, tank level, and temperature every 5 minutes and makes the data available from any mobile device or PC.
Features:
Cellular connected and ready for you to use.
New technology allows for it to connect even in low cellular service areas.
Includes rechargeable battery that lasts 2-4 weeks between charges when you don't have constant power.
Rechargeable by USB, solar panel or 12 VDC
Can communicate with "Sensor Nodes" to allow for additional sensors to be placed throughout the sugarbush.
Introducing:
Sensor Nodes
Sensor Nodes provide additional vacuum or tank level sensors throughout a sugarbush allowing you to quickly pinpoint the exact location of a leak in order to maximize your gallons/tap and overall profitability of your sugarbush. The range between two nodes in a typical sugarbush is 1/4 upto 1/2 mile between nodes (~3 miles line of sight).
Spy Mesh technology allows other nodes to repeat the signal back to the hub allowing for near endless coverage throughout a sugarbush.
New Feature
Integration in onX
Sap Spy can now be integrated with your existing onX map of your sugarbush. Mainlines change color based on vacuum readings and measured vacuum from sensor nodes throughout the sugarbush are overlay the map. This allows you to quickly pinpointthe leak in your system getting you back to max vacuum.
Demo
The Sap Spy Web App:
Web App: Check the status of your sugarbush from any mobile device (iphone or Android, tablet, or computer using a standard web browser.

SMS Alerts: Receive text alerts for low vacuum, high tank level, low battery or loss of power. Can send SMS alerts up to 3 different phone numbers.

Plot history: Plot the history of the vacuum, tank level, temperature and battery.


Testimonials
It is so simple to set up and use...overall a great addition to our operation.

Dr. Tim Perkins - UVM Proctor Maple Research Center
As soon as there is an issue you know it. I would of lost a days production without it.

Ed Z.
Being able to plot the data is awesome, it gives me peace of mind knowing my pump is working properly. 

Rob T.
Knowing the tank level is great as it allows me to better plan my day based on sap flow.

Keith W.
This thing is fantastic. It saved me countless trips back and forth from the woods. 

Justin K.
SapSpy Keeps Tabs on the Sugarbush
By TIMOTHY D. PERKINS and WADE T. BOSLEY
University of Vermont Proctor Maple Research Center UNDERHILL CENTER, Vt.
Click Here to Read the Full Article
Coverage Map
Sap Spy works with Multiple Cellular Carriers in both United States: (blue); Canada: (orange) 
Reach out if you'd like to see detailed coverage map. Full refund will be provided if the device is unable to connect.
Active Sap Spy Devices: This map represents active Sap Spy devices during Spring 2022
View Map